Dinnerly vs Everyplate
Last Updated on August 30, 2020
The market for food delivery services keeps growing because of high demand. New companies have a hard time competing with the well-known giants of the industry. At the same time, the smaller companies can provide an excellent service and in this article, we will compare Everyplate vs Dinnerly to identify the better service.
The overall winner is Everyplate.com – Get your first week of meals at $3.99 each.
Short Overview/Delivery Area
Dinnerly
Number of meals per week: 6 recipes per week
Special Diets: Gluten-free, Vegetarian, Kid-Friendly, Low-Calorie
Shipping charges: $8.99
Headquarters: New York
Marley Spoon is Dinnerly's parent company. This is why the quality of the ingredients is guaranteed. These are provided by the same sources. This company provides less diversity in terms of food choice but it does take out all the additional costs to provide its customers with some of the lowest prices on the market. The shipping service has limited coverage.
Everyplate
Number of meals per week: 9 meals to choose from every week
Special Diets: Only regular diet plans
Shipping charges: $8.99
Headquarters: State of Delaware
This is a meal delivery service with a flexible subscription. This means that you can change your plan, skip weeks or cancel it at any time. Even though the service doesn't provide dishes for special dietary preferences, they are able to keep the price very low. They made a conscious decision to reduce the number of available meals per week in order to reduce the cost.
Pros/Cons
Dinnerly
Pros
Easy to cook recipes – 6 ingredients included for each one of them;
Low price – only $4.99 per serving;
Classic meals that are perfect both for kids and adults.
Variety of weekly meals.
Cons
Delivery doesn't cover all of the US;
The customer has to pay for shipping.
Everyplate
Pros
One of the cheapest meal delivery services;
Recipes created for fast and easy cooking;
Eight new recipes for every following week.
Cons
No complex recipes;
Charges for shipping;
A very small selection of dishes.
Pricing
In our tight competition of Dinnerly vs Everyplate, we have to say that both of these services offer some of the most affordable plans on the market. Both of these companies have reduced the price of their servings as much as possible while keeping the quality if ingredients on a very high level.
Dinnerly provides two plans: two-person box, family box. The price of both plans depends on the number of selected meals.
Two-person box
3 meals per week – $4.99 per serving;
4 meals per week – $4.89 per serving;
5 meals per week – $4.79 per serving.
Family box
3 meals per week – $4.99 per serving;
4 meals per week – $4.69 per serving;
5 meals per week – $4.49 per serving.
The price of shipping is going to stay the same for every plan – $8.99.
Everyplate has just one meal plan to choose from and the customer can simply select the number of people (for 2 or for 4) and the number of dinners (3, 4, or 5). The price per serving will not change and will always remain $4.99. Shipping will add an additional $8.99 for the total price.
While being very similar in terms of price, we feel that Dinnerly has a small advantage over Everyplate. The customer can actually benefit from ordering more portions.
Types of Menu
Dinnerly offers more flexibility with its dishes. The menu has meals from various categories. These are:
Vegetarian;
Gluten;
Under 30 minutes (easy to cook dishes);
Dairy-free;
Kid-friendly.
Everyplate offers just a selection of 9 options for every week of your subscription. You can take a look at the following week to see what recipes the service has in store for you.
Everyplate does not cater to specific dietary preferences, so the winner here is definitely Dinnerly.
Variety of dishes
In terms of variety, both of these services make good use of classic dishes and recipes that reduce the time of cooking. According to this principle, the difference between Dinnerly and Everyplate is very insignificant. But then again, Dinnerly does provide vegetarian dishes, gluten-free options, and low-calorie dishes.
Some of Dinnerly's best recipes include:
– Fresh Pesto Pasta (Vegetarian);
– Saucy Vinegar Chicken;
– Fried Chicken;
– Beefy Spanakopitza;
– Creamy Tomato Baked Penne (Vegetarian).
On the other hand, Everyplate's best dishes are:
Grilled Onion Burgers;
Hotel Butter Steak;
Chicken Sausage & Tomato Soup;
Mediterranean Stuffed Peppers.
So which one is better here, Dinnerly or Everyplate? We think that Dinnerly yet again has a slight edge over its competition. Both services have rotating schedules and you'd find the same dishes return on the menu after a while.
Quality of products
Dinnerly makes it clear that they source their ingredients from trusted sources. They provide guarantees for the freshness of their fruit and vegetables. On the official website, it is said that the poultry was not injected with antibiotics and that the shrimp are caught in America.
The suppliers for Everyplate vary by week and region. These are being carefully selected based on the quality of products that they can deliver.
Everyplate is better than Dinnerly in the fact that the service has to adapt in order to find the best solution for every week of recipe demands. We're not really sure how this influences the overall quality as it may vary from one week to another. We will have to give our point here to Dinnerly.
Boxes/Environmental Impact
The quality of boxes is important if you want your ingredients to be delivered fresh day after day.
Both services here offer similar things. The boxes are insulated and the ice packs are keeping the products fresh for a long time.
Dinnerly offers detailed information on recycling. Basically every component of their boxes can be recycled, starting with the paper box itself and ending with the plastic components like ice packages and foil pouch.
Everyplate also provides information on recycling the gel ice packs and the liner. Their boxes and separators are 100% recyclable.
We feel that Dinnerly has more useful and detailed information to provide for its customers regarding the recycle. Also, the paper for their boxes is sourced from sustainably managed forests. In this tight competition of Dinnerly vs Everyplate, we would go again with Dinnerly.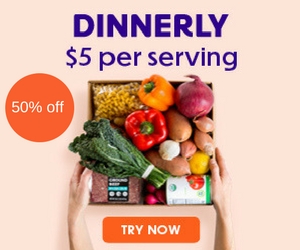 Ordering process

Ordering is incredibly simple for both services. You simply have to create a subscription and then you are free to select the delivery options and finalize your order. Your subscription is flexible and can be adjusted at any time.
Support

Dinnerly can be contacted via a message on their website.
You can also write them an email.
Telephone number: 888-267-2850
Everyplate provides a 24/7 live chat for assistance as well as a phone number with their working hours.
Conclusion

So, the big question is which is better – Dinnerly or Everyplate? By the total amount of gained points, our clear victor is Dinnerly. The service has more to provide in terms of meal variety and additional dietary choices. At the same time, Everyplate does a very good job of keeping the cost for their food very low.
Can you pick your meals with Dinnerly?
The Dinnerly meal kit service offers to choose your meal – you can choose one for you.
What kind of meals does EveryPlate have?
Everyplate has flexible menu. 8 flavorful meals to choose: Steaks, Pork, Carbonara, Pie etc.