Awesome Events
Published on September 28th 2015
Star Wars Secret Cinema- Pilot training and Luke's Starfighter
After tasting the culinary delights of Tatooine, we headed into another part of the factory where a very enthusiastic American lady taught us a couple of pilot signals and maneuvers.
All I remembered was:
"Grenade" means everybody hit the ground, and "Co-pilot" meant hug the person next to you.
Our pilot training was interrupted by a loud blaring of the Star Wars theme and sound clippings of Obi Wan deactivating the Death Star tractor beam in A New Hope, and our little group of pilots realized that everybody had gathered in the middle of the room.
Looking upwards, we realised that they were about to re-enact the last few scenes from A New Hope. We saw Luke's X Wing suspended above us!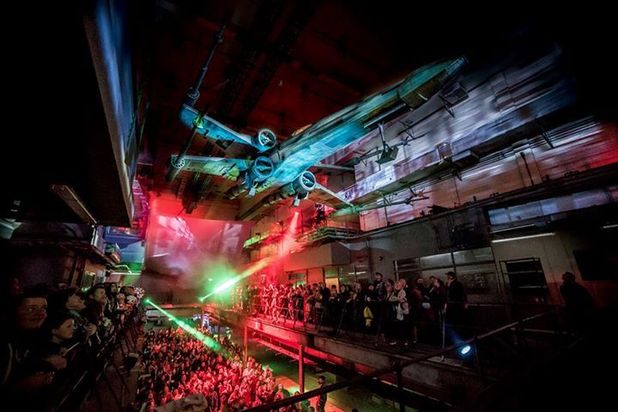 Then, who's to come marching out menacingly but Darth Vader himself! We all booed like it's a Christmas pantomime…and cheered as Obi Wan appeared and drew is light sabre. Despite most people having seen Star Wars, I could swear I saw a few nails being bitten as Vader and Obi dueled.
It was epic..it's like reliving the first time you watched A New Hope again!
Everybody booed when Vader dealt the final blow, but we knew that had to happen for what came next.
Luke's X wing started moving! 
As Star Wars nerds, we've all heard the phrase "Luke use the force" thousands of times but this time, it was the most insanely climatic rendition we ever heard!
The model was firing out lasers and the next thing we heard was the sound of the Death Star exploding which solicited thunderous applause from the crowd!
They finished off the sequence by reenacting the finishing ceremony with Princess Leia handing out medals to our favorite heroes and being invited to watch The Empire Strikes back.
This is part 3 of 4
Read the final part of my Star Wars Secret Cinema experience (part 4) >>
Want to read similar posts? This post was filed in: London Secret cinema Star Wars